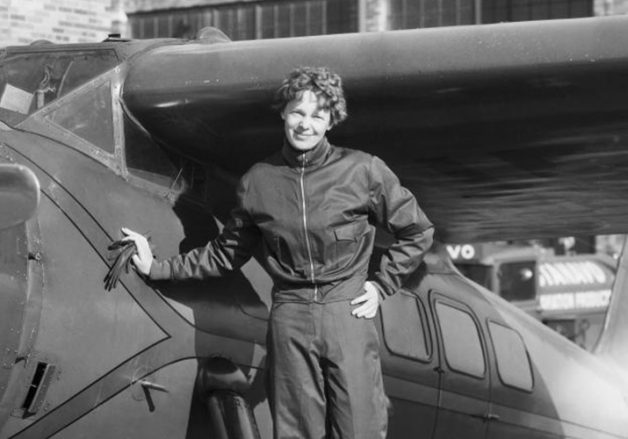 The first female aviator to fly solo across the Atlantic Ocean, Amelia Mary Earhart was one of the most renowned aviation pioneers in history.
Even though her disappearance remains a mystery, her life and her various accomplishments still inspire people to this day.
So let's take a look together at the amazing life of Amelia Earhart, the American pilot who has manged to inspire numerous pilots and millions of women all around the world.
Early years
She was born in July 24th, 1897 in Atchison, Kansas. Amelia saw her first airplane in Iowa State Fair in Des Moines; she refused to go into it. The aviation pioneer later described the biplane as not at all interesting.
After finishing her high school education she received training as a nurse's aide from the Red Cross and began work with the Voluntary Aid.
On December 28th, 1920, Earhart and her father visited an airfield in Long Beach, where she took a plane ride that utterly changed her life.
"By the time I had got two or three hundred feet off the ground I knew I had to fly." She said.
Aviation career
After that visit, Amelia worked a variety of jobs to save money for flying lessons. She had her first lesson on January 3rd, 1921. She was the 16th woman in the United States to be issued a pilot's license. She received it on May 15th, 1923.
She became a member of the American Aeronautical Society's Boston chapter and was eventually elected its vice president. Moreover, she also flew the first official flight out of Dennison Airport in Quincy, Massachusetts in 1927.
Around the same time, Earhart also wrote local newspaper columns about flying.
Her first flight across the Atlantic was on June 17th, 1928. She flew as the third member of a crew. Amelia was not happy with that flight as she stated later that her job was minimal.
Her solo transatlantic flight
On May 20th, 1932, Earhart set off from Harbour Grace, Newfoundland, with the intent to fly to Paris in her single engine plane.
After a flight that lasted for 14 hours, 56 minutes in which she had to deal with strong northerly winds, icy conditions and mechanical problems, Amelia landed in a field at Culmore, Northern Ireland.
When a farmer asked, "Have you flown far?" Earhart replied, "From America".
More solo records
On January 11th, 1935, Amelia Earhart became the first pilot to fly solo from Honolulu, Hawaii to Oakland, California.
Those were not her only records, between the years 1930 and 1935, Amelia Earhart set seven women's speed and distance aviation records in a variety of aircraft including a solo flight from Los Angeles to Mexico City and a nonstop flight from Mexico City to New York.
Her last flight
During a long flight intending to circle the globe, Amelia Earhart disappeared somewhere over the Pacific in July 1937.
Her disappearance remains one of the greatest mysteries in the world as her plane was never found. Amelia Earhart was officially declared lost at sea.
Pioneer and icon
During her lifetime, Amelia Earhart was a world-renowned international celebrity. Her persistence, courage and goal-oriented career have sustained her fame in popular culture around the globe.
Hundreds of articles and books have been written about her life. In addition to being one of the most renowned aviation pioneers, Earhart is also regarded as a feminist icon.
Numerous women started to believe that they can, in fact, excel in what was previously presumed as man jobs thanks to leading pioneers as Amelia Earhart.
The Ninty-Nine
Amelia Earhart didn't stop over that, she worked to promote and provide opportunities for women in aviation.
In 1929, after placing third in the All-Women's Air Derby, Earhart formed an international organization for the advancement of female piolets called Ninety-Nine, and implemented the first transcontinental air race for women.
She became the first president of the organization of licensed pilots, which still exists today and represents women flyers from 44 countries.  
Flight around the world
On June 1, 1937, Amelia Earhart took off from Oakland, California, on an eastbound flight around the world. It was her second attempt to become the first pilot ever to circumnavigate the globe. 
She flew a twin-engine Lockheed 10E Electra and was accompanied on the flight by navigator Fred Noonan. They flew to Miami, then down to South America, across the Atlantic to Africa, then east to India and Southeast Asia.
The pair reached Lae, New Guinea, on June 29. When they reached Lae, they already had flown 22,000 miles. They had 7,000 more miles to go before reaching Oakland.
What happened to Amelia Earhart during her last fly
Earhart and Noonan departed Lae for tiny Howland Island—their next refueling stop on July 2. It was the last time Earhart was seen alive. She and Noonan lost radio contact with the U.S. Coast Guard cutter Itasca, anchored off the coast of Howland Island, and disappeared en route.
On July 19, 1937, Amelia Earhart and Noonan declared lost in the sea after the president Franklin D. Roosevelt's authorization searching two weeks for the pair, but they were never found. 
Scholars and aviation enthusiasts have proposed many theories about what happened to Amelia Earhart. The official position from the U.S. government is that Earhart and Noonan crashed into the Pacific Ocean, but there are numerous theories regarding their disappearance.  
Crash and Sink Theory
Earhart's plane ran out of gas while she searched for Howland Island, and she crashed into the open ocean somewhere in the vicinity of the island.
Several expeditions over the past 15 years have attempted to locate the plane's wreckage on the seafloor near Howland. High-tech sonar and deep-sea robots have failed to yield clues about Electra's crash site.
Other theories about Earhart's disappearance


There are numerous conspiracy theories about Earhart's disappearance. One theory was that Earhart and Noonan were captured and executed by the Japanese.
Another theory claims that the pair served as spies for the Roosevelt administration and assumed new identities upon returning to the United States.
To learn more about aviation pioneers see also:
QUESTIONS ABOUT OUR FLIGHT ACADEMY? ASK A TRAINING ADVISOR