PILOT TRAINING PROGRAMS
The reputation for high-quality instruction, delivered in our purpose-built modern training facilities, not to mention the unsurpassed commercial flight test pass rates of OxfordSaudia Flight Academy, a CAE Authorized Training Centre, has made us the envy of the flight training industry. Our students enjoy excellent training facilities including; state of the art classrooms, a bespoke online Learning Management System (LMS), and a fully instrumented fleet of training aircraft and simulators.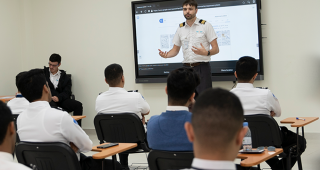 the student starts his flight training with ground school. During the Practical Phase, our students will obtain the knowledge, skill and aeronautical experience necessary to meet the requirements for a commercial Pilot Certificate with Airplane, Multi-Engine Land and Instrument Airplane Ratings. In order to pass this phase successfully, the student must demonstrate through written tests, practical tests, and through appropriate records that he/ she meets the knowledge, skill and experience requirements necessary to obtain a Commercial Pilot Certificate with Airplane Multi-Engine Land, Instrument Airplane Ratings.
HOW TO BECOME A PILOT
Entry criteria for airline-mentored programs are developed in
conjunction with our airline partners and can in some cases
be more stringent than our typical minimum requirements.