Apps for Pilots: The Top helpful Smart mobile applications
Aviation Facilities
|
November 10, 2020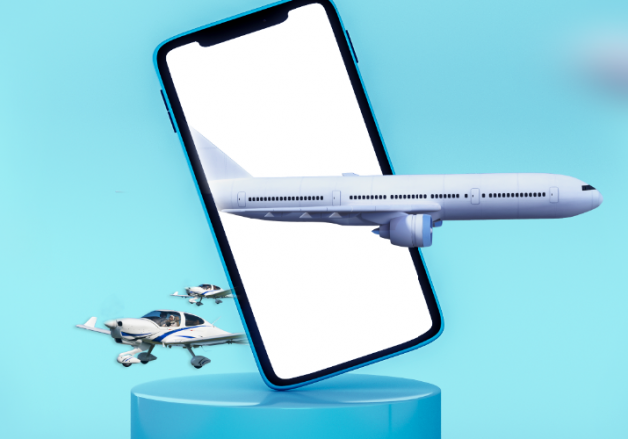 There are thousands of useful apps for pilots, from flight training and weather briefs to calculators and games. 
Modern digital technologies have had a massive impact on the work of pilots. Now, it is possible to keep most of the essential logs, advanced weather apps, and data logging apps in just one device!
Due to the booming technological advances in mobile solutions, pilots can save their time by obtaining information about flights and airports and even receiving warnings with just a few clicks of the buttons on their smartphones. Take a look at one of the most advanced mobile apps which can help pilots with their daily tasks.
The list below contains top apps for pilots, the ones we see in use most often, and they are worth considering on any pilot's tablet device.
1.ForeFlight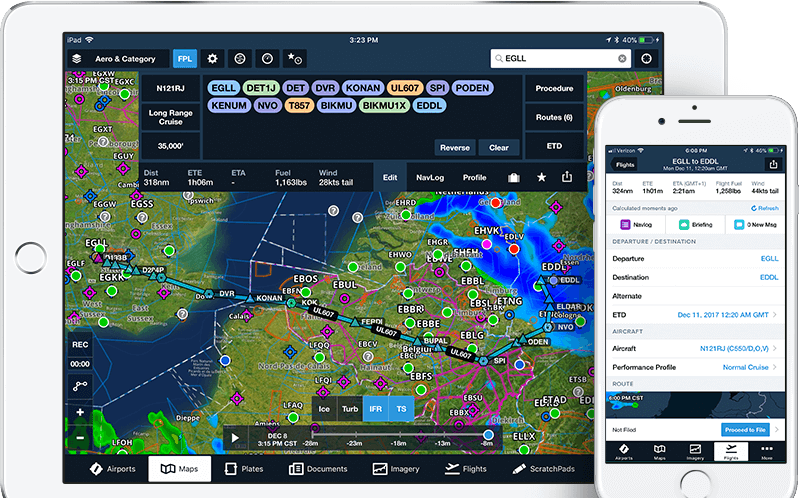 This is one of the apps that provide pilots with a wide range of services such as flight planning, charts, document management, flight logging, weather, airport information, artificial vision, and more.
The unique feature of ForeFlight is the Trip Assistant, which takes the trip planning experience to another level. Trip Assistant quickly measures complete door-to-door flight time, including information about gas stops, airport driving, and flight times.
Unfortunately, this app is only available on iOS devices such as the iPad or iPhone and not for android devices.
2. The AOPA Magazine App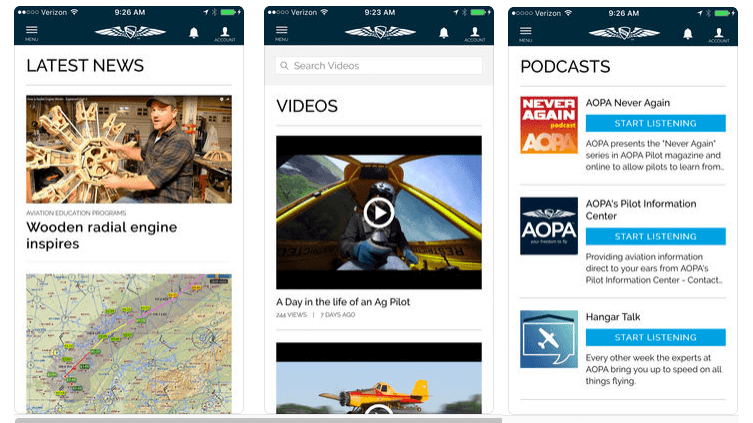 The magazine app supported by the Aircraft Owners and Pilots Association (AOPA) gives simple access to digital editions of the AOPA Pilot and Flight Training magazines. AOPA Mags app is available on Android and iOS devices.
The app is free, but you must be a member of AOPA and have a digital magazine subscription to access its content. The AOPA Mags app provides the latest space-related news and interesting content to their main audience – the Flyers.
3. Garmin Pilot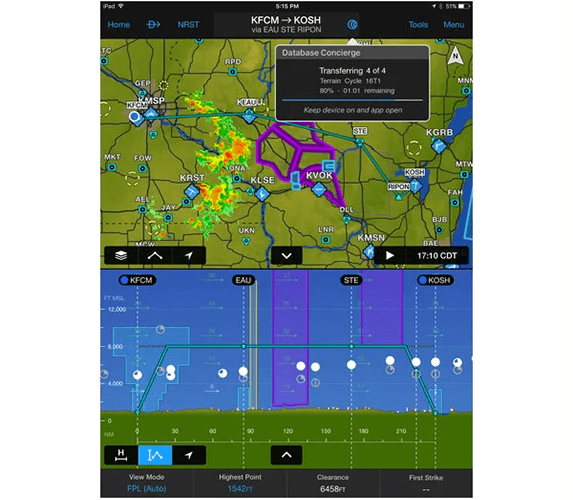 Available on Apple devices, this app is the perfect portable companion for flight crews. Plan a trip by accessing comprehensive global weather data like TAFs, SIGMETs, METARs, NOTAMs, and live lightning data.
The Garmin Pilot app helps to easily present a trip plan by saving the information to the cloud. The user does not need to re-enter the same information if they are using a different device.
Also, the app allows users to view electronic checklists. Pilots can choose or manually type in aircraft data into the Garmin Pilot. Once the device establishes a wireless connection to the aircraft, the app transfers the up-to-date database directly to compatible avionics systems within a few moments.
4. MyRadar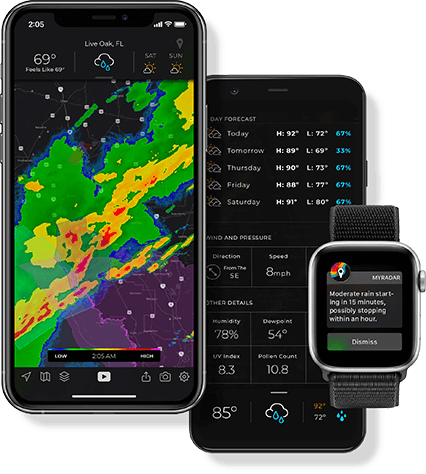 This free app is simple, yet fast and easy to use. MyRadar displays a redundant NEXRAD radar for the entire US that's easy to zoom in – perfect for pre-test weather briefs.
It even includes some nice added flying features, like TFRs, AIR / SIGMET overlays, and path overlays based on N numbers. We've seen everyone from airline pilots to paraglider pilots use this app.
5. FlyQ InSight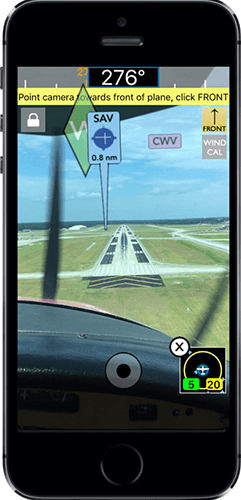 Forget any kind of trouble finding information about airports. FlyQ InSight combines airport information, flight planning, weather conditions, and even fuel prices in one mobile app.
The augmented reality flight and space app provides the possibility to use your phone's camera as a device to find airports. In addition, FlyQ InSight displays information about the nearest airports within seconds of scanning the area around you. The app is available on iPhone and iPad devices.
6. CloudAhoy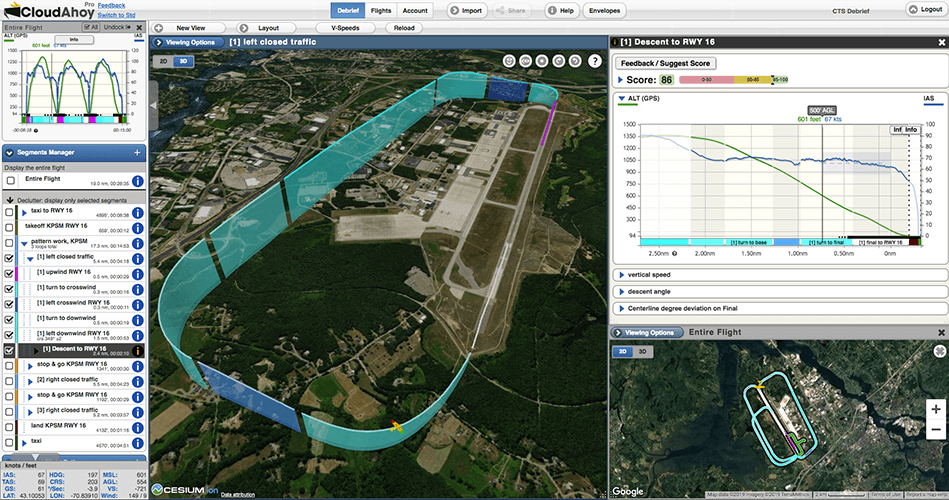 This app is an excellent choice for flight instructors and post-flight debriefing. CloudAhoy collects flight information, including airport data, weather, aircraft log, and other important data.
The main focus of CloudAhoy is to analyze various data sources and turn them into background information. CloudAhoy is available on all mobile devices and desktop devices.
7. LogTen Pro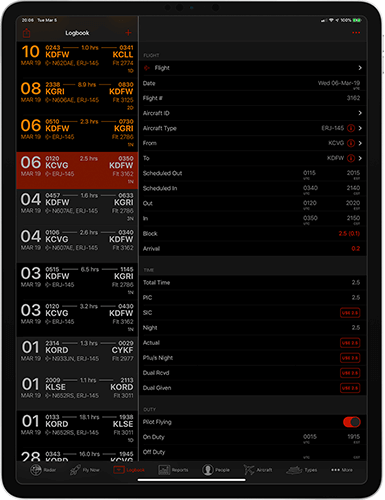 This app is powered by Coradine Aviation, and also it is considered as one of the most advanced electronic logbooks that is available on a mobile device.
Experience fast flight recording and detailed flight time analysis. Moreover, LogTen Pro monitors all incoming flights and warns the pilot of any potential issues. LogTen Pro is available on iOS devices.
8. RosterBuster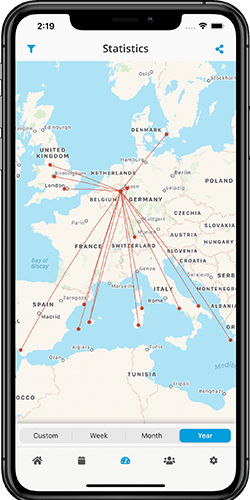 RosterBuster makes it easy to track your aviation career with statistics about your flights and duties. Also, the app allows you to check all necessary information like KCM, Wx, METAR, TAF, and NOTAM for any airport in the world. Moreover, RosterBuster supports more than 500 airlines. RosterBuster is available on Android and iOS devices.
9. ForeFlight Passenger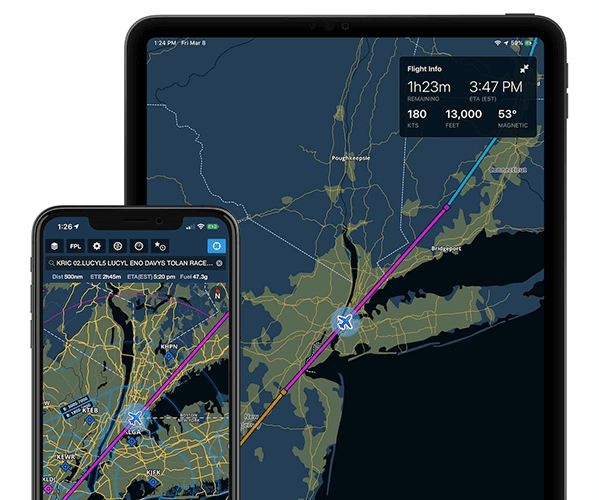 This is a free app is one of the best apps for pilots and it is a companion app to the main ForeFlight EFB app, it answers a common question such as "When will we get there?", and it simply answers due to the location of the plane, altitude, path, and remaining time when the app is connected to another device in the cockpit that's running ForeFlight. Definitely worth a try if you travel a lot with the same passengers.
Also, Read:
QUESTIONS ABOUT OUR FLIGHT ACADEMY? ASK A TRAINING ADVISOR