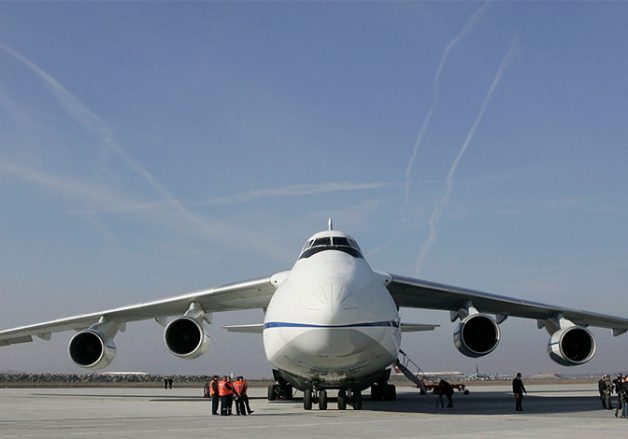 The aviation industry has changed the world in so many ways. And giant airplanes in specific have utterly transformed the transport system as they offer the fastest transport method with a huge capacity to hold passengers and goods. The biggest airplanes in the world play a significant role in our life today, from military missions to transferring passengers and cargo all over the world.
From military to cargo to passenger planes, these are the biggest airplanes in the world.
The largest flying machine ever made: Stratolaunch
With and impressive length of 73 meters and a gigantic wingspan of 117 meters, this plane is the largest flying machine ever made. Or it will be when it takes its first flight in 2019.
The plane was designed and built to launch rockets into space, a dream that has long haunted its designer. However, it has been taking a very long time to build that people wonder if it is still a good project. Space technology has evolved so much that this airplane may be obsolete now. However, it will still be a delight to watch such a huge aircraft take flight.
The largest flying boat ever made: Hughes H-4 Hercules
The length of this aircraft is 66.65 meters and its wingspan is 97.54 meters. Not only is this aircraft the largest flying boat ever made, but it also has the largest wingspan of any aircraft that has ever flown.
Widely referred to as the Spruce Goose, The Hughes H-4 Hercules is a flying boat that was designed and built to be used during World War II. However, the aircraft was not completed in time to be used in the war.
Only one single example was produced of this transatlantic flight transport, and it made only one brief test flight. The project never advanced beyond both.
The Spruce Goose was called as such because it was built from wood due to the wartime restrictions on the use of aluminum.
The aircraft is currently displayed at the Evergreen Aviation & Space Museum in the United States.
The largest cargo plane ever made: Antonov An-225 Mriya
Featuring a length of 84 meters and a wingspan of 88.4 meters, the Antonov is definitely one of the biggest airplanes in the world. In fact, it has the largest wingspan of an aircraft currently in service.
Moreover, its unbelievable empty weight is 285,000 kilograms, which makes it the heaviest aircraft ever built.
It was originally built to transport large space planes, but after completing its military duties, the aircraft started a second career as a cargo plane.
The sizable aircraft can carry huge and heavy freight, up to 250,000 kg internally, or 200,000 kg on the upper fuselage. In addition to that, it can carry up to 70 meter long cargo on the upper fuselage.
The largest passenger airplane ever made: Airbus A380-800
With a length of 72.72 meters and a wingspan of 79.75 meters, this passenger airplane can certainly carry a number of people.
This double-deck, wide-body, four-engine jet airliner is the world's largest passenger airplane. It is so huge that the airports at which it operates had to upgrade their facilities to accommodate it.
The airplane is often designed to carry 525 people in a typical three-class configuration. But it can provide seating for up to 853 people in an all-economy class configuration.
QUESTIONS ABOUT OUR FLIGHT ACADEMY? ASK A TRAINING ADVISOR